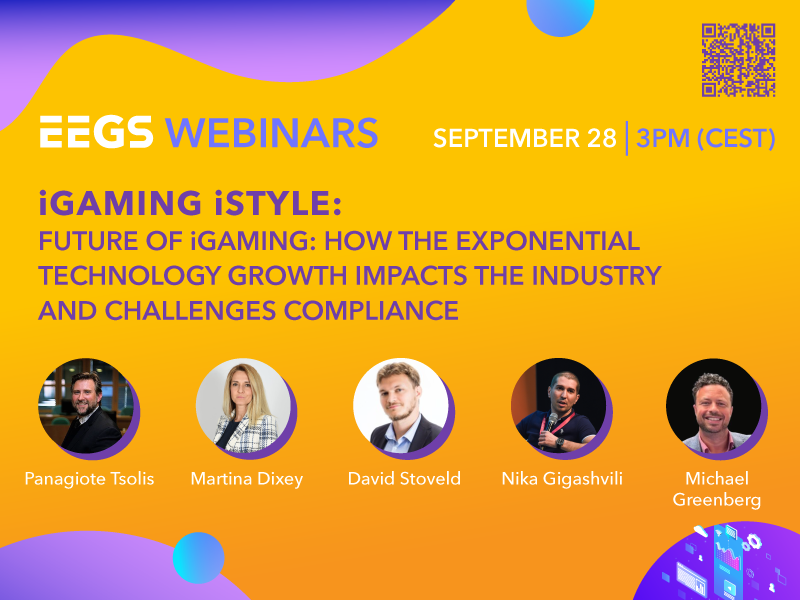 The Eastern European Gaming Summit (EEGS) is now preparing to launch the third edition of EEGS Webinars, scheduled to take place on September 28th, 2023, at 3:00 PM CEST. Thе promising online event is meant to explore the intriguing topic of iGaming iStyle: "Future of iGaming: How Exponential Technology Growth Impacts the Industry? New Developments and Regulatory Compliance."
All interested in the iGaming can reserve their spot for the webinar completely free at Webinar Registration – Zoom. This is the third edition of the EEGS Webinars. The first two delved into the subjects of the gambling advertising and AI (Click here to watch on demand EE GS – YouTube)

The upcoming online event will shed light on essential perspectives about the future trends of iGaming and the crucial factors related to the forthcoming changes presented by distinguished professionals in the field.
 
Panagiote Tsolis, Director of the Business Programs and Associate Professor at the Hellenic American University (HAU) in Athens, Greece, will take the lead as a moderator of the panel. The other speakers that will be sharing their expertise in the course of the discussion are Martina Dixey, Senior Compliance Manager at Playtech, Nika Gigashvili, Managing Director and Partner at SMH, David Stoveld, COO of Armadillo Studios at EveryMatrix and Michael Greenberg, Chief Commercial Officer at Damex.io


The iGaming industry has been evolving over the years, driven by technological advancements and the need of changes in the regulation. During the one-hour discussion the professionals will exchange thoughts on crucial aspects such as the new technology impact on the development of the iGaming sector and further possible challenges in compliance.

The attendees will gain invaluable insights into the exciting developments that are shaping the future of iGaming. Аll participants will have the opportunity to join the dedicated Q&A session and to engage directly with the esteemed experts.

Moreover, each registered for the webinar will receive additional 30% discount for the early bird tickets of the Eastern European Gaming Summit (register for the webinаr here: Webinar Registration – Zoom)

"Our upcoming webinar provides a platform for established iGaming professionals to present various aspects of this broad topic in a one-hour panel discussion. I am sure that the interesting information prepared by them will be of benefit to all those interested in the industry and I look forward to the valuable insights our speakers will share with the audience.", said Biliana Tsvetkova, conference manager of the EEGS.

The Eastern European Gaming Summit (EEGS) will be held on 22-23 November at IEC, Sofia. This year's agenda will once again put a highlight on major subjects which are forming the future trends of the industry and promises a compelling line-up of sessions. Marketing, new technologies, regulations, responsible gaming are some of the topics that this year edition of the conference will be focusing on. The organizers are preparing a number of pre-events as Masterclass, Affiliate Conference and more networking opportunities.

For more information, sponsorship opportunities, and further details, please visit ; https://eegamingsummit.com or contact us at info@eegamingsummit.com – it is our pleasure to be at your disposal.